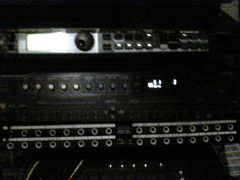 This is going to sound a bit silly. But it's a remarkable testament to the ability of Ebay to empower (You like that word? It's kind of a marketing word. We use it a lot around the office) nostalgic gear addicts, even if they're high.
No I wasn't high. But you can't tell from the 20-year-old effects processor I ended up with.
We had one of these in the studio at school and at the time it seemed like a Pretty Cool Thing. So did the S-50 sampler. I bought one of those too, in a package deal with a couple of half-rack MIDI thru boxes and a Roland Super Quartet (insert sound of cat coughing up hairball here). It was a real Roland blow-out special.
Before I sold all that gear — the MKS was the first to go, and the S-50 the last, with the DEP-5 going for about $150 somewhere in the intervening years — I wrote some music and made some recordings. One of those recordings featured a particular effect, and recently my inability to duplicate it on any other effects processor began to gnaw at my very soul. I had to hear it again. Nevermind the fact that I had absolutely no use for it.
Look for this one to turn up on Ebay again once I've recorded the impulse response and loaded it into Space Designer.