Anyone who doesn't think it's sad when a music store goes out of business needs a heart transplant. It's someone's livelihood, someone's passion, and it is a grind. There are certainly lots of easier ways to make a living than by owning or managing one. They provide a mecca for young musicians, and can be a place of discovery where same become wide-eyed and invigorated about making music, albeit often loudly and poorly. They also provide jobs (and cheap gear, natch) for musicians in their formative school years and beyond, as they did for me briefly after I graduated from university.
On the other hand you'll be hard pressed to find a musician who doesn't have at least one music store on his or her "places never to set foot in again" list due to a botched service job, sullen or patronising staff, high prices, poor selection, or egregious trade-in, return, or consignment policies. Add to that the clientele, jostling at your elbows as they press their greasy noses up to the pedal case, sniffing at your noodling as you test-drive a new instrument as if they were adjudicating your audition for the Mothers of Invention, or playing any one of a number of tunes on your "tunes I would not favourably compare to having a quarter-inch chainsaw sharpening file jammed in my ear" list – loudly and poorly. It seems like a recipe for an aching head with a cartoon scribble of rage hovering above it, and might lead you to believe that the demise of such an establishment is not so lamentable after all.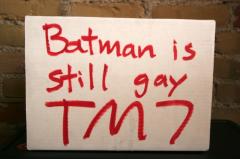 I would certainly tick a few of the aforementioned boxes on the scorecard of Songbird Music on Queen Street in Toronto, whose proprietors announced they were going into receivership two Fridays past. But even so, and while I was never part of any Queen West music crowd, members of which can be found mourning Songbird's passing on various blogs and message boards, I do think I'll miss having it around, and popping in to see what analogue synths were collecting dust on the shelves (it was an authorized Moog dealer and the second-best store in town for used analogue gear after Paul's Boutique) on my way to drinks at Squirly's.
I vacillated about jumping into the car to check out the liquidation sale when I first heard the news last Saturday morning, but finally decided against it. Toronto's a pretty big place, with lots of gear pigs and keyboard players. The most attractive deals would be gone within the first 24 hours, which had already passed by that time. Aside from which, I do really have just about everything I need at the moment, barring the few rare and phenomenally expensive items that I think would truly round out my collection. But when I found out yesterday that the doors had not yet closed for good I decided to put a fleece before the Lord. Songbird was also Toronto's only authorized Metasonix dealer. I don't really need any more Metasonix gear – and even using the word "need" in conjunction with vacuum-tube modular synthesis components requires a bit of semiotic gymnastics – but the fleece logic went as follows: if there was still any Metasonix gear left on the shelves after a week on sale at 40% off, I obviously know more about the intrinsic value of the stuff than anyone else in the city, and was meant to rescue it from obscurity, misuse, or neglect.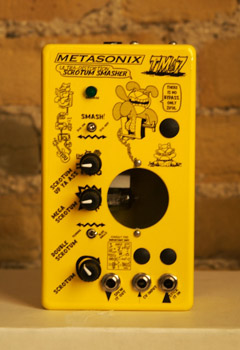 Witness please, what may be the only Metasonix TM-7 "Scrotum Smasher" (sorry mom!) in Toronto, and one of fewer than 100 in existence (or so I'm guessing – the serial number is 76). I believe Trent Reznor has one. It comes in a handsome off-white cardboard carrying case, hand-lettered by Eric Barbour, is itself painted a shade of yellow that can only be described as alarming, and is adorned by the whimsical and disturbing artwork of Dave Lovelace, who you may know from his Retarded Animal Babies DVD.
What does it do? I'm not sure. I haven't plugged it in yet. I told the cashier that I might just frame it. Essentially it's a tube distortion unit, and when I listened to the demos on the Metasonix site I was surprised at how normal it could sound when you run a guitar through it. Because according to the inimitable Eric Barbour it is capable of much more. Manipulating the various controls (including "Scrotum", "Mega Scrotum", and "Scrotum Up Ya Ass" dials as well as a "Double Scrotum" toggle that switches between "Teabag" and "Blue Balls" – sorry mom!) can provide you with such effects as puking upon the face of the universe and destroying the godhead. To sum up, it is a "mean, angry guitar preamp…for the disciplined, intelligent, non-risk-averse musician."
I don't know why I waited this long to get one.