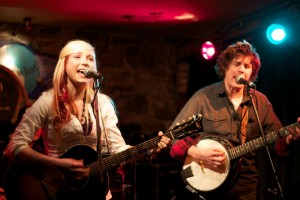 Toronto indie music and microbrew mainstay C'est What? celebrated 25 years of supporting local brewing and songwriting talent on Wednesday with an eclectic lineup of performers that represented the club's history as a proving ground for both musicians and brewmasters.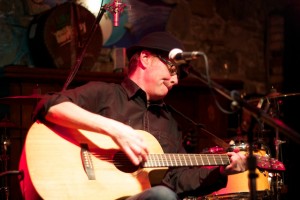 The energetic Ariana Gillis opened the night with a spirited set of country originals that ranged from folksy balladeering to introspective crooning, occasionally calling to mind the less profane efforts of Martha Wainwright. Following up Ms Gillis was Scott Bradshaw, a.k.a. Scott B. of Scott B. Sympathy fame, whose rootsy twang and steel-string strumming was complemented by the effortless lead playing of Gord Cumming.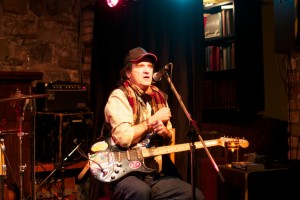 Power trio Station Twang finished off the night in chunky, jangly style, with guitarist Sandy Mcfadyen (ex Swollen Members and current proprietor of Ossington tequila bar Reposado) and bassist Vince Carlucci trading vocals and occasionally instruments through energetic yet endearingly self-effacing renditions of their indie-rock ouevre.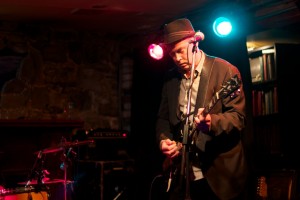 Mr Mcfadyen wasn't the only booze industry crossover represented onstage either, as Station Twang's drummer is local brewer Mike Duggan. Familiar to local music fans as a member of Rheostatics compatriots The Woods Are Full of Cuckoos and later The Lawn, Mike's fame as a musician is perhaps eclipsed by his accomplishments as brewmaster for his eponymous brand (flowing freely from the #9 IPA tap) as well as his seminal role in establishing the Mill St. Brewery, which got its start onsite in the C'est What? brewery.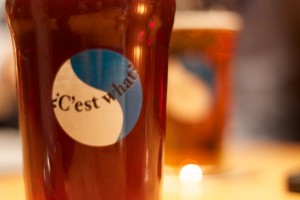 I showed up on the Toronto scene not long before C'est What? did, and being a young music student hungry for stage time and thirsty for beer, the Front St. bar was an obvious and frequent destination. If memory serves I performed onstage in at least four different ensembles ranging from post-Commitments R&B to west-coast inspired jazz fusion. The number of my friends, fellow students and rising stars who I saw onstage is beyond counting at this point, though its frozen-in-time website offers a glimpse at the familiar names who graced the stage at one point or another on their way to Massey Hall – Sarah Slean, the Brothers Creeggan, Leslie Feist and Danny Michel among them.
The rooms have changed, the stages have moved around and even disappeared altogether for mercifully brief periods, and its footprint has expanded and contracted over the years. The favourite ale of my youth, the original Conner's Best Bitter, has not been poured (anywhere) for about two decades. But George Millbrandt's mission to bring locally brewed beer and talent to Toronto lives on in the basement of 67 Front St.