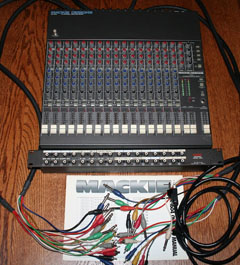 For the very few of you who come here looking for used gear before you go to Craigslist, I'm announcing a price drop on a few of the "Gear for sale" items as well as an exciting addition to the list. The Mackie 1604 is now available with manual, 2 8-channel quarter-to-RCA snakes and a 32-point RCA patchbay for only $325. The JV-1080 can now be yours for a mere $300, and don't forget there's a lovely gig-bag style 2-space rack case into which that synth would fit perfectly for just $50. And be still my heart, but I have decided to loosen my grip on the knobtacular Korg MS2000R, which I'm also offering up for just $325. Unfortunately I'm having some trouble tracking down the manual for that last one, but it is available from the Korg website as a PDF. All prices CDN, pickup only.
Let's recap:
Mackie CR-1604 with snakes and patchbay – $325
Roland JV-1080 rack syntheziser – $300
Korg MS2000R rack syntheziser – $325
Check the Gear for Sale page for additional listings.