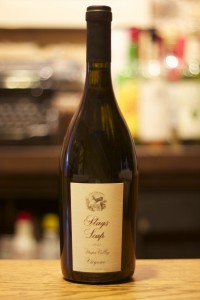 People often ask me what my favourite wine is, and I know that my first honest answer is not usually what they want to hear – and that is that I don't have a favourite, there are so many wines for me to try yet before I could elevate one above all others. And of course one doesn't want just one thing every hour of every day; just like what you eat for dinner or what you choose to wear in the morning, the wine that feels appropriate at any given moment is dependent upon one's mood, the setting, the weather… you can see already that I'm trying to tell you things but I'm not really answering your question.
As a student of wine I tend to want to give the name of some old world red, to demonstrate my appreciation for well-structured, complex, age-worthy and, well, let's be honest, expensive wines. There's usually something on my radar in this category, but it's rarely my first pick. The fact is I tend to drink more whites than reds, and the one wine that I will probably never turn down is Prosecco – perhaps because I always know what to expect, and it's not a particularly expensive wine, so I never feel the pressure to appreciate it more than I enjoy it, if you get what I mean.
The first wine I gravitate toward on a wine list though, assuming we're starting with whites, will invariably be a Viognier (pronounced VEE'-oh-NYAY, more or less, and certainly not VOING-nur as I overheard once from a nearby table). It's a versatile aromatic grape with its roots in the Rhône, notably Condrieu and Château-Grillet. It's also blended with Syrah in the Côte-Rôtie, where it is allowed as much as 20% of the bottle, though amounts of around 5% are more typical.
Confined largely to the old world until a groundswell of interest in the last decade of the 20th century, Viognier is now planted all over the planet. We currently have access to Viognier from Ontario, British Columbia, California, France, Australia, Argentina and New Zealand in the LCBO, and their best value white wine (in my books, anyway) at the moment is the Cono Sur Bicicleta Viognier (64287) from the Colchagua Valley in Chile, available for a mere $9.95.
Viognier has been described by the redoubtable Jancis Robinson as somewhere between Chardonnay and Gewürztraminer, and I'm not going to argue. Where the aromaticity of the latter is often described in floral terms, Viognier tends more to the exotic, with its darker notes sometimes likened to musk or even gingerbread. Due to the grape's thick skin, Viognier can be noticeably tannic, unlike a majority of whites whose tannins, aside from oak influence, often don't register. For my part, I have noticed a slightly bitter, though not entirely unpleasant, starchiness that tastes like what I imagine gnawing on an actual vine might (I'll have to add that to my list of things to do on my next winery tour) in many of the admittedly under-$40 Viogniers I've tried. If you want to geek right out on the subject of balance in this particular wine there's some fine bedtime reading here.
If you are emboldened at this point to get some down your neck, there are a couple of interesting selections available to check out at the moment in the LCBO. I quite enjoyed the 2011 Elephant Hill Le Phant Blanc (325951), a Viognier/Pinot Gris/Gewürztraminer blend made in Hawke's Bay by an expat German winemaker which sells for a very New-Zealandy $19.95. If you like that lush tropical-fruity New Zealand white style but get a bit bored by the high acid levels of their ubiquitous Sauvignon Blancs, the pineapple-mango flavours in this bottle might be right up your alley. It also has a pleasant waxiness on the nose and a not overbearing hint of residual sugar.
My plan to write this article and my wife's salmon pasta were all the encouragement I needed to shell out $36.95 for the 2013 Stags' Leap  Viognier (597369), and if I need to tell you where that's from you're staying after class to clean the erasers (a little joke for the Tom Lehrer fans out there). This one certainly pulls its weight, as you might expect from the label, with a nose of honeysuckle, apricot, white flowers, orange zest and a great fulfilling of that promise on the palate, silky and powerful with mouthwatering acidity, luscious stone fruit and a warm, peachy finish. If I had one complaint about this bottle it was that it had a bottom.
I can't finish up without mentioning a real barnstormer from Australia that came our way back in 2011, the 2006 Binder Mitchell Unheralded Maiden Viognier out of Clare Valley. We called it "buxom harlot" around our house on account of the label, which featured a sixties-movie-poster-style illustration of a decidedly Bardot-esque young woman. I haven't seen it since, and research suggests it was a one-off. It was a great example of how studying wine (particularly in Ontario) can be like fostering kittens. You can fall in love almost instantly, then one day they disappear and you never see them again. Of course you don't drink the kittens. That would be weird.