I think we can all agree that we're grateful for having a variety of excellent wines available to us at very reasonable prices – much of it from Chile – but it's also fair to say that the price we pay for a bottle of wine determines, to a large degree, how much we talk about it. We may wax poetic to our guests about the nuances of a Bordeaux, gush over our discovery of a particular bottle from the Russian River Valley, but of the Chilean Chardonnay that we have with a bit of chicken on a Thursday night, we likely say, "I like wine," and leave it at that. To say that an inexpensive wine is a good value is often all we make the effort to say.
It was refreshing, then, to be invited to hear Santa Carolina's affable winemaster Andres Caballero talk about his Reserva wines in the iYellow Wine Cave (the new home of the iYellow Wine Club) earlier this week. I might not have otherwise pondered where the winemaker feels his Reserva Chardonnay falls on the continuum between California and Chablis, or the inevitability of a field blend when vinifying Chilean Merlot, whose original vines, imported from Bordeaux in the 19th century, were interspersed with Carmenere – a fact not discovered until many decades later.
Five Reserva wines were paired with gourmet offerings from downtown lunch spot Sliced: Sauvignon Blanc (337535) with crab cakes, tartar sauce and fresh dill; Chardonnay (304022) with pumpkin ravioli in sage sauce; Carmenere (57133) with chicken curry; Merlot (324590) with mushroom and truffle oil arancini, and Cabernet Sauvignon (275925) with Moroccan Lamb sliders.
The Reserva Sauvignon Blanc is bright and fresh, with notes of grapefruit and tropical fruits typical of warmer-climate whites; I would suggest if you're looking for a slightly lower-acid alternative to a New Zealand bottle this would certainly fit the bill. I also paired it, quite happily, with some Indian take-out at home later in the week. Among the reds the Carmenere was certainly a standout, marrying well with the spice of both the chicken curry and, at Mr Caballero's suggestion, the crab cakes. I further tested this affinity alongside a home-made chili (pure coincidence, honestly) with excellent results.
I noted that the reds were surprisingly fresh and fruity. The "Reserva" designation does tend to set up an expectation of a particular amount of barrel aging, but it's worth keeping in mind that this only applies specifically to Spanish and Portuguese wines. While the nose of the Cabernet Sauvignon was not quite as forthright as the others with its hints of graphite and cassis, it rewarded the palate with black cherry and fine tannins. And judging from our discussion that day it's still difficult to talk about Merlot without some mention of the fact that it has been unfairly maligned in the past. If it's any consolation, I still see Paul Giamatti described as "the Sideways star," as if it was the only movie he's made in ten years.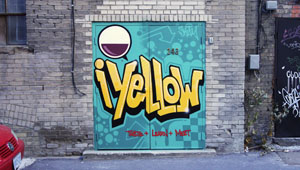 With all these wines being available for under $13 at the LCBO, it's easy to let value overtake the discussion. But any wine worth drinking – and the current vintages of these selections enjoy aggregate ratings of 87 or better from WineAlign – is an expression of the place it comes from and the people who make it, which certainly makes it worth talking about.
This was my first visit to the iYellow Wine Cave, and I had to compliment proprietor Angella Aiello on the ambience. The basement setting and graffitti-marked back-alley entrance put me in mind of the after hours clubs I visited in my youth, though with notably better refreshments and decor. For more information on the event and an interview with Andres Caballero, visit the iYellow Wine Club blog.